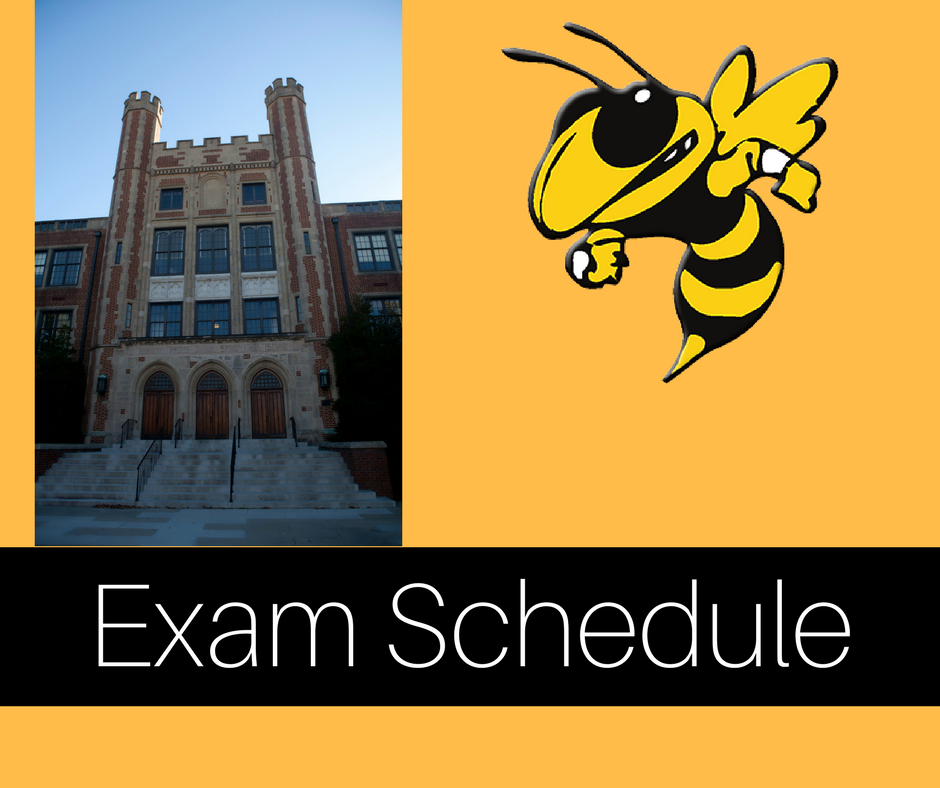 2018 Winter Exam Schedule Revised
Les Atkins
Tuesday, January 02, 2018
RRHS Exam Schedule – January 9-12, 2018
Teachers and Administration will go over this thoroughly with all students to ensure accuracy.
NOTE CHANGE TO: Tuesday, Jan 9, 2018
8:30-11:30 and/or 12:30 - First Block AM Exam (EOC's (English II/Biology/Math I) and CTE Post-assessments)
NO ONE MOVES FROM ANY ROOM OR ANY LOCATION UNTIL ESCORTED BY ADMINISTRATION – TIMES OF DISMISSAL FROM EACH ROOM MAY VARY DEPENDING ON THE TYPE OF EXAM YOU ARE TAKING – ADMINISTRATION WILL LET YOU KNOW WHEN THE TESTING SESSION IS OVER AND WILL MOVE YOU ACCORDINGLY. ONCE YOU ARE ESCORTED FROM YOUR TESTING SITE YOU MAY EAT LUNCH IN THE CAFETERIA OR LEAVE CAMPUS FOR THE DAY. NO ONE WILL BE IN THE HALLS OR ROAMING ABOUT ON CAMPUS. TESTING WILL NOT BEGIN EACH DAY UNTIL AN ANNOUNCEMENT IS MADE TO DO SO. ALL TEACHERS SHOULD LET TESTING DIRECTOR M. Harris KNOW IMMEDIATELY OF ANY ABSENCES FROM THE EXAM.
LUNCH – runs from 11:30 – 1:00 in the cafeteria.
1:05 – 3:30 - First Block PM Exam (NC Finals and Teacher- Made Exams)
Buses will run for the AM exam and the PM exam. For the AM exam, pick up times are as normal.
Buses will take the AM exam students home at 1:00. AM exam students, once escorted from their AM exam room, will either leave campus for the day or stay in the cafeteria for lunch until leaving by the bus at 1:00.
Buses will pick up the PM exam students from their bus stops at 12:00. PM exam students who ride the bus will arrive at school at 12:30. PM exam students are to remain in the cafeteria until time for the PM exam at 1:05. NO ROAMING ON CAMPUS. PM exam students will eat lunch from 12:30-1:00. PM exam students will take their PM exam from 1:05-3:30. Buses will run as normal to take students home.
We will follow the same procedures as above on Wednesday, Thursday, and Friday with makeups on Friday.
Wednesday, January 10, 2018– Second Block AM Exam – 8:30-11:30 and/or 12:30
Second Block PM Exam – 1:05 – 3:30
Thursday, January 11, 2018– Third Block AM Exam – 8:30-11:30 and/or 12:30
Third Block PM Exam – 1:05 – 3:30
Friday, January 12, 2018 – Fourth Block AM Exam – 8:30-11:30 and/or 12:30
Fourth Block PM Exam – 1:05 – 3:30
Makeup exams will be given week later next week as needed.