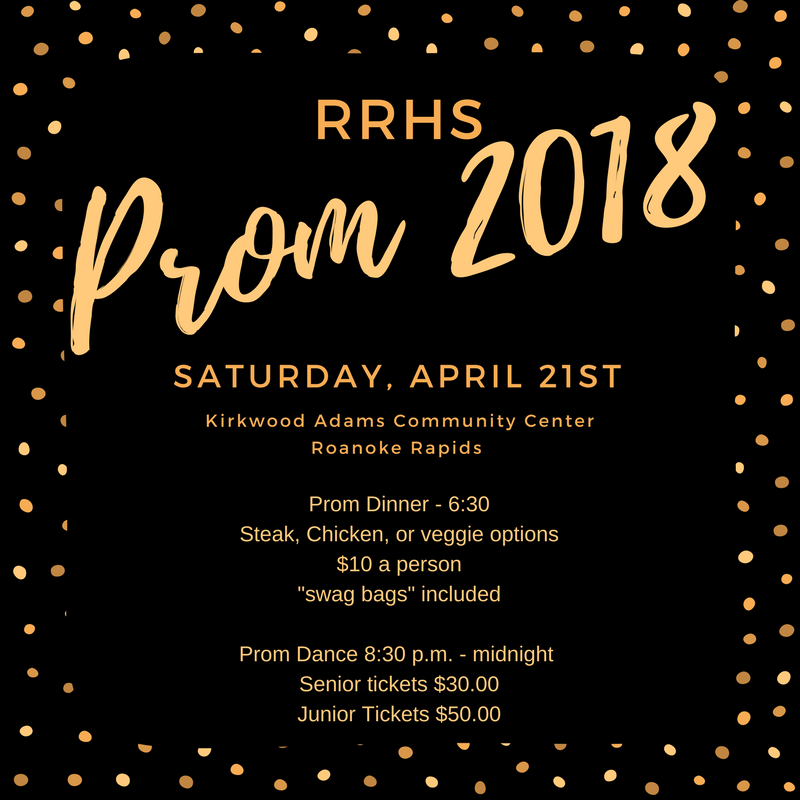 Prom Ticket Sales Announced
Les Atkins
Sunday, February 18, 2018
Prom will be April 21, 2018 at the Kirkwood Adams Center with doors opening at 8:30. The theme will be... a surprise!
Dinner
We will also be offering a full catered meal at 6:00 pm prior to prom. Your meal will be deliciously prepared by local caterers with your choice of steak, chicken, or a vegetarian option, served with potatoes, vegetables, rolls, salad, and dessert. With the purchase of your dinner ticket, you will also receive a one-of-a-kind Swag Bag filled with Prom 2018 goodies, as well as a personal photo shoot with local photographer, Jennifer Wrenn (Works of Tart Photography). You will have a printed out portrait of you, your date, or your friends before you leave the dance floor that night. The dinner, the swag bag, and the photo will only cost you $10!
Early Dinner Ticket Sales and Raffle
On February 21 during both POWER Blocks, Mrs. May (213c) and Mrs. Sass (202) will sell dinner tickets. Only 50 tickets will be sold. For everyone that buys a dinner ticket that day will be entered to win a FREE prom ticket (up to a $50 value). You will be notified by Friday if you win! Two FREE prom tickets will be given away.
Reduced Ticket Sales Date
On February 28, during both POWER blocks, prom tickets will be sold at a REDUCED price. This is the ONLY time where you can purchase tickets at a lower price.
Senior tickets will be $15
Junior tickets will be $35
Guest tickets will be $35
Dinner tickets will be $10
Guest forms can be picked up at this time. For ANYONE that is not a student at RRHS OR for a 9th and 10th grader at RRHS a guest form is REQUIRED. Your guest will not be permitted to the dance without it.
Regular Ticket Sales Dates
March 14 (dance and dinner)
March 21 (dance and dinner)
April 11 (dance only)
Senior Tickets $30
Junior Tickets $50
Guest Tickets $50
Dinner Tickets $10