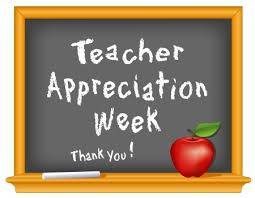 Teacher Appreciation Week at Belmont!
Patrick Quast
Tuesday, April 24, 2018
Our teachers ROCK! Join us in saying THANK YOU by participating in Teacher Appreciation Week.
Monday, April 30-Hats OFF to teachers! Wear your favorite hat!
Tuesday, May 01-Teachers make our future BRIGHT! Wear shades or sunglasses!
Wednesday, May 02-We're our teachers' BIGGEST FANS! Wear your favorite sports team attire!
Thursday, May 03-We LOVE our teachers! Wear RED to show your love!
Friday, May 04- Write a Thank You note to your teacher. Take a moment to let your teacher know how important he/she is.