Roanoke Rapids High School's Virtual Learning Plan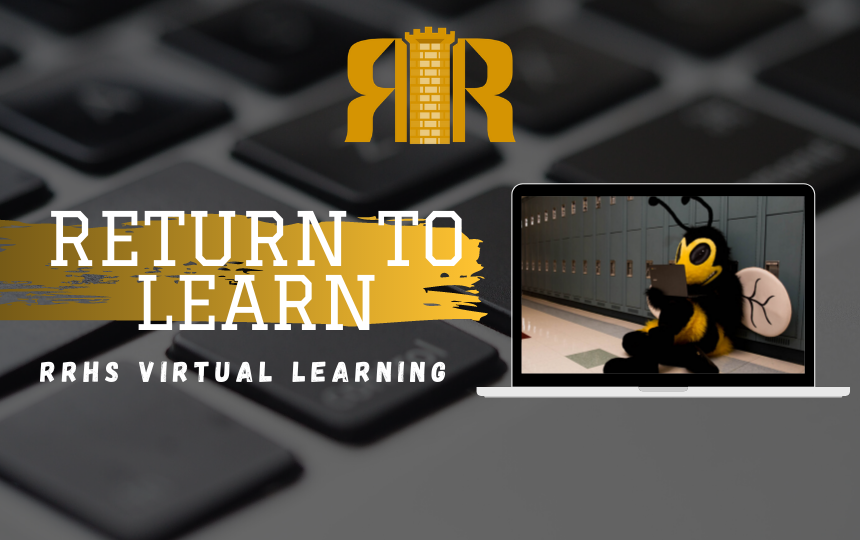 In response to the COVID-19 global health crisis, Roanoke Rapids High School has developed a remote learning plan so our students can continue learning daily. This virtual plan is temporary, and we hope to get back to "normal" as soon as possible. Our plan is based on the following principles: (1) supporting continuous instruction, (2) providing access for all students, (3) maintaining connectedness to students and parents/guardians.
Our staff will continue to support instruction through a variety of digital materials to maintain academic growth for all grade levels and subject areas. We will provide flexible learning options while holding students accountable for their work.
Here's a link to weekly lesson plans and assignments for RRHS
https://sites.google.com/rrgsd.org/rrhs-remote-learning-site/home

Virtual Instruction:
Each Sunday by 5pm, the virtual teacher will post the instructional plan. This will provide students and parents/guardians a "Week at a Glance" perspective. Expectations will be highlighted for the upcoming week.

Attendance: All students are expected to complete Google Classroom assignments and participates in all assigned Google live sessions and attend any meetings designed by the teacher in order to be counted present for a virtual school day. Communication between students, parents, and teachers is vital, especially around times when students may be unable to attend a virtual meeting.

Accountability: Students participating in fully virtual learning will be held accountable for both mastery and completion of Google classroom assignments. Grades will be given in a similar fashion as if there was face-to-face interaction. Timely feedback will be provided by the teacher regarding accuracy and mastery of the material. Remote learning will not be designed to be completed in one sitting for the week. We will provide a rigorous instructional experience as possible. Students will be expected to be engaged every school day.
Commitments for Student Support
Pre Recorded lessons weekly -- Lessons will be recorded so it can be viewed anytime.

Teachers will hold live classes each week (e.g. Google Hangout)

Office hours will be available daily for more one-on-one assistance

Teachers will use a variety of online resources and provide those resources to assist students

Up to four hours of daily activity may be required (depending on the course)
Student Support during Remote Learning
Each RRHS teacher will hold a live 1 HOUR Google Meet session for each of their class periods based on the schedule posted below.

In other words, your 1st period teacher will have a scheduled live Google Meet every Monday morning for an hour. This live meeting will be held between the hours of 8:30-11:30am.

You will have another 1 hour live meeting with your 1st period every Thursday afternoon between the hours of 1:00-3:00pm.

This will follow suit or each of your class periods.

Your teachers will post the links and scheduled times for the live Google Meetings in Google Classroom.
During live sessions, teachers will provide instruction, support, and/or answer questions.

Teachers will post on their Google Classrooms the specific times for each session. They will also post if students need to have anything prepared prior to the live Google Meet session.

Students should be prepared for the live Google Meet sessions based on the information provided by their teacher in Google Classroom.

Participation in live Google Meetings is strongly encouraged. This is a time for students to access their teachers in a live session, to hear instruction (as if we were face to face in a traditional school setting), and to participate in a classroom atmosphere.

While attending live Google Meetings, students are expected to follow the student conduct policies for the district and school. ***Any student who fails to conduct themselves appropriately during a live Google Meeting will be referred to an administrator.
Please note: Live Google Meetings will begin the week of August 24 and will continue throughout the remote learning time period.
Wednesdays all teachers will be available for one-on-one sessions as needed. These sessions can be student or teacher-initiated.

Teachers may request a student to meet with them one-on-one via Google Meets because the student is struggling to complete required assignments/activities.

Students may request an appointment with their teacher(s) for a one-on-one session if they need additional support.

Appointments are recommended for One-on-One Wednesday sessions to ensure the teacher is available (not working with another student).

Each teacher will observe office hours daily.

Teachers can be reached via email, phone (252-519-7200), and possibly Google Meet during their posted office hours.

Office hours are for students who need additional support for assignments or have questions for their teacher(s).

Appointments are welcome, but NOT necessary.

Emails received during office hours will be answered in a timely manner.

All teachers will have weekly plans posted in Google Classroom. The weekly plans will include:

The assignments due for the week

Lectures/Pre-Recorded Videos

Live Google Meets Sessions

Office Hours

Schedule for One-on-One Appointment slots

Teachers can also be reached via email. Emails received outside of office hours will be answered within a 24 hour period Monday through Friday. Emails received between Friday after 4:00pm and Sunday will be answered the following Monday.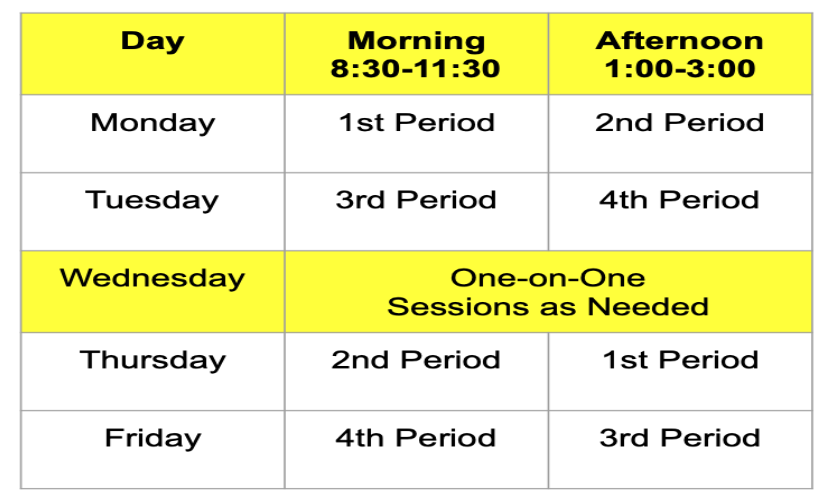 Attendance will be taken and entered into PowerSchool for each period
Initial Date of Attendance for Fall 2020
In order for a student to be counted present for the first day of the Fall 2020 semester (August 17, 2020) students and teachers must have a two-way correspondence. Students will receive an email from each of their teachers, Monday, August 17, 2020 for attendance purposes.
Students MUST respond to each teacher via email to be counted present for the day. Your attendance will be entered into PowerSchool marked 1R (Present Off Site)
If you DO NOT respond to the initial email from your teachers, you will be marked 2A (Unexcused absence) in PowerTeacher Attendance.
Students who are marked absent for Monday, August 17, 2020 will continue to receive emails from your teacher until you respond.
After 3 days of unsuccessful attempts for initial contact Mrs. Clark (COL), administration, and the counselor will be notified and a home visit will be scheduled.
Please note: The first day attendance cannot be linked to an assignment. In other words, even if you submit an assignment in google classroom you must respond to your teacher's email to be counted present. This is ONLY FOR THE FIRST DAY.
Daily Attendance for Fall 2020 (After Initial Attendance)
Students will be marked present 1R (Present Off Site) EVERY DAY FOR EVERY PERIOD for completing ONE of the following actions (based on the direction of your teacher(s)):
Completing an assignment in google classroom
Doing a check in on google classroom (mark complete)
Attending live google meets session (whole group or one-on-one)
Speaking with your teachers(s) via phone
Communicating with your teacher(s) via email
Please note: even if a student does not complete an assignment, but instead does one of the other actions mentioned above, they should be counted present 1R (Present Off Site). Attendance is not solely tied to completion of assignments.

If a student does NOT complete one of the above mentioned actions you will be marked 2A (Unexcused Absence) for the period for the day.