The Roanoke Rapids Graded School District hosted its fourth annual Celebration of Excellence virtually this year to honor the district's best educators.
"We normally have a banquet room full of people for this celebration, but due to COVID restrictions, this year's celebration had to be done virtually," said RRGSD Public Information Officer, Les Atkins as he hosted the event via video Thursday night on the district's Youtube page and Facebook.
The yearly celebration recognizes the district's teachers, staff, and administrators who go above and beyond every day for the children of this community.
Belmont Elementary School Principal Jance Moody was named the district's Assistant Principal of the Year.
Moody who has served as AP at Belmont Elementary for three years said, "Every high-five and pat on the back comes from the bottom of my heart. Children know when you're not being genuine. I come to work each day ready to give my best to our students. I'm honored to be recognized."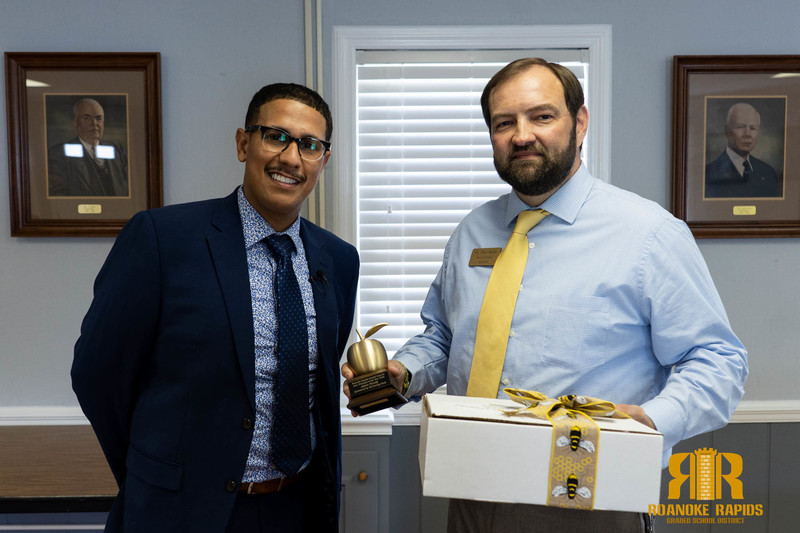 Eight people were nominated for the Support Person of the Year:
Jodi Medlin, Teacher Assistant at ACES
Whitney Murphy, Teacher Assistant at Belmont Elementary
Lindsey Cooke, Accounts Payable and Purchasing Accountant at Central Services.
Barbie Boyd, Community Outreach Liaison at Chaloner Middle
Michelle Ricks, Teacher Assistant at Clara Hearne
Amanda White, our nurse at Manning Elementary
Angie Lassister, School Counselor at Roanoke Rapids Early College High School
Anna Whittle, Administrative Assistant at Roanoke Rapids High School
Amanda White who serves as the school nurse at Manning took home the honors. "I love being part of the Manning Elementary family and serving students each day. This is truly an honor," White said.
The 2020 Principal of the Year, Lauren Hinnant will go on to represent RRGSD at the regional level.
"While I may be biased, I feel Manning's staff, students, and community are second to none and I'm so grateful to be accepting this award. During these uncertain times I'm even more thankful to work with such a great group of people at Manning and across the district. I'm so proud to be accepting this award," Hinnant said.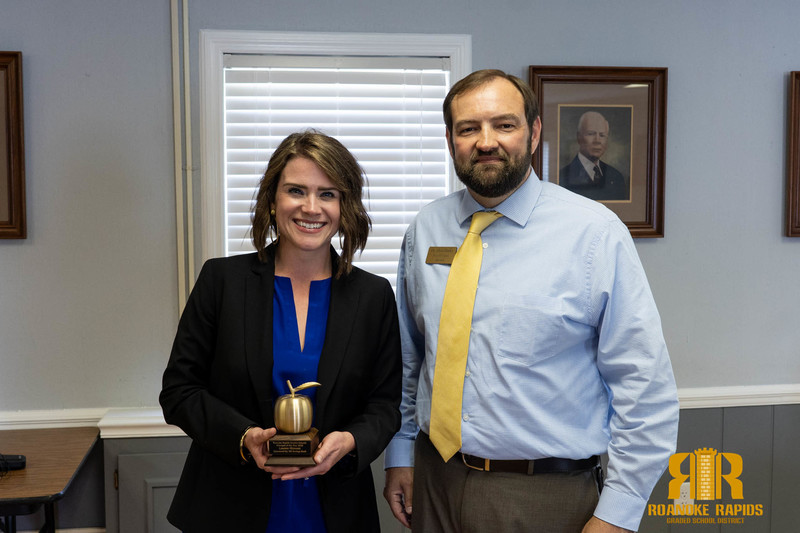 One teacher from each school was selected as a candidate for the district's Teacher Ambassador of the Year and was interviewed by a panel at the district level.
"This year has been particularly challenging for our teachers and staff. I'm really proud of the work they accomplished all year, but especially the final months of school. They adapted overnight to online learning and looked for creative ways to keep our students engaged. Our students are fortunate to have such an amazing group of educators and support personnel," said Dr. Dain Butler, RRGSD Superintendent.
The nominees for Teacher of the Year included:
Melissa Davis, ACES
Ashley Santopolo, Belmont Elementary School.
Kay Allen, Chaloner Middle School
Lakisha Fagbeyiro, Clara Hearne Pre-K
Brooks Ard, Manning Elementary
Holly Holman, Roanoke Rapids Early College High School
Sandy Eisenmenger, Roanoke Rapids High School
Clara Hearne Pre-K Teacher Lakisha Fagbeyiro was named 2020 Teacher Ambassador of the Year. She will go on to represent Roanoke Rapids Graded Schools at the regional level.
"Ms. Fagbeyiro creates a classroom environment that is welcoming, engaging, and positive for children's learning. She gets to know her students and their interest and applies it to her instruction. She is very in tune with each child's learning style and embeds that in all of her lessons. She is certainly deserving of this award, said Lindsey Goble, Clara Hearne Pre-K Director.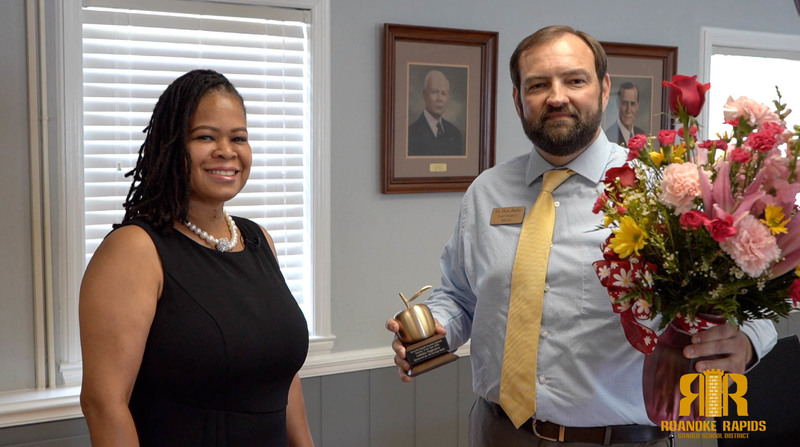 Fagbeyiro received a golden apple trophy to display in her classroom compliments of Roanoke Rapids Savings Bank, flowers, a laptop from Trinity3 Technology, and a gift box of "Made in Halifax items" from Halifax Convention and Visitors Bureau.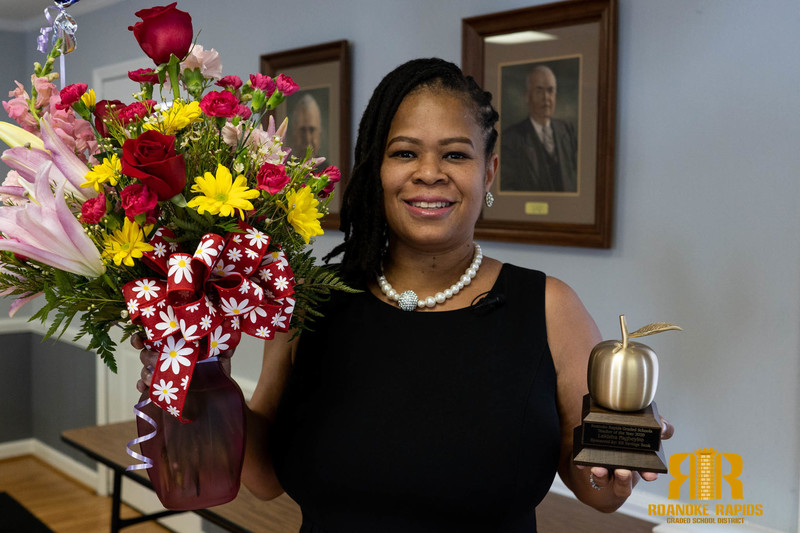 "Thanks so much to Dr. Butler and the entire administrative team for your leadership and support. I love working here. Everyone is so supportive both professionally and personally. We had some challenging times this year and we made sure our student's finished strong. I'm honored to represent every teacher in the district as the 2020 Teacher Ambassador," said Fagbeyiro.