Roanoke Rapids Early College High School December 2020 Exam Schedule:
Teacher-made exams - if you have an A or B average, you are exempt.
These will be given the week of December 14-18 - your RRECHS teacher will communicate with you as to the process for these.
EOC's December 14-18:
These are required by the state to be face-to-face.
Monday, December 14-8:30-11:30 - Biology and English II
Tuesday, December 15 - 8:30-11:30 - Biology, English II, and Math I
(Your teachers will let you know which day and time if you are in both Bio and English II)

Wednesday, December 16 -8:30-11:30 - Math III
Thursday, December 17 -8:30-11:30 - Math III
(Your teacher will let you know which day and time)
HCC exams: - follow your professors guidance and the HCC exam schedule.
Additional Testing Information:
Transportation will be provided -- Be at stop between 8:10 a.m. & 8:15 a.m. (Only for those eligible to ride.)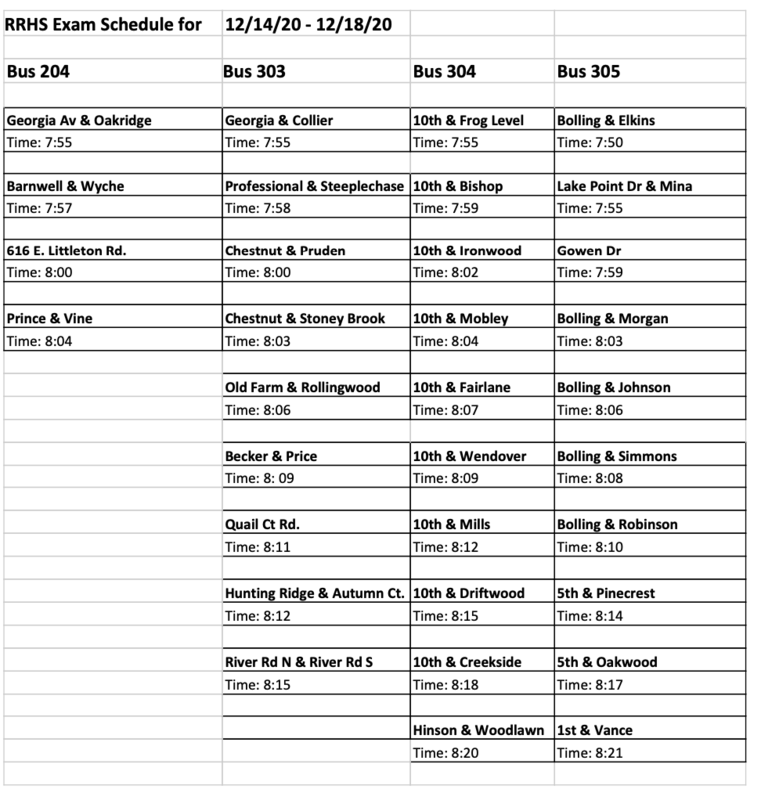 Breakfast and Lunch will be provided
Do not bring anything for the test! Chromebooks and pencils will be provided
Only come on the day of your test. Please do not come and hangout!
Safe Entrance Protocols:
We will be following state mandated safe entrance protocols on testing days. Each day you will be asked the following questions and have your temperate checked before boarding the bus or entering the building. Masks are required on campus.