Approximately 65% of the students in Roanoke Rapids Graded Schools receive free or reduced lunch.  
"These are real numbers which represent children in our community," said Janina Pinnicchia, RRGSD Director of Child Nutrition. 
More than 200 volunteers from the community are hoping to change that math this Saturday when they meet at Manning Elementary to create and pack 10,000 nutritionally balanced meal packets that will eventually end up going home with students in their backpacks over the next few months.  
The Roanoke Rapids Graded School District is partnering with Generosity Feeds, a national non-profit organization that is facilitating the event. Generosity Feeds works with communities across the country to raise funds and host packing parties where volunteers come together and get the work done in just a couple hours.
East Tenth Street Christian Church Pastor Jason Yeatts is serving as the local coordinator.  "I partnered with Generosity Feeds when I lived in Cary. When I moved to Roanoke Rapids earlier this year and saw the need, I wanted to get Generosity Feeds involved here. It's common to think of church missions as something that happens globally. I strongly believe that it starts in our communities first as we address the needs of our neighbors."
Of course all of this comes at a cost.  Roanoke Rapids Alumni and NY Giants football player Kareem Martin funded the majority of the $10,000 needed to pay for the meals, along with East Tenth Street Christian, Westrock, and Badcock Furniture.  Additional support was provided by Atkins Ad Group, Mainspring Solutions, Starbucks, The Copy Center, CJ the DJ, Express Signs, and GFL.  
"The meal packing will take most of the morning on Saturday.  We'll start with a food safety lesson, divide into groups and begin the process of creating the meals which consist of rice, beans, and vegetables that can be easily cooked.  Generosity Feeds does these events all over the country. This will certainly be an experience we, as a community, will never forget," Yeatts added.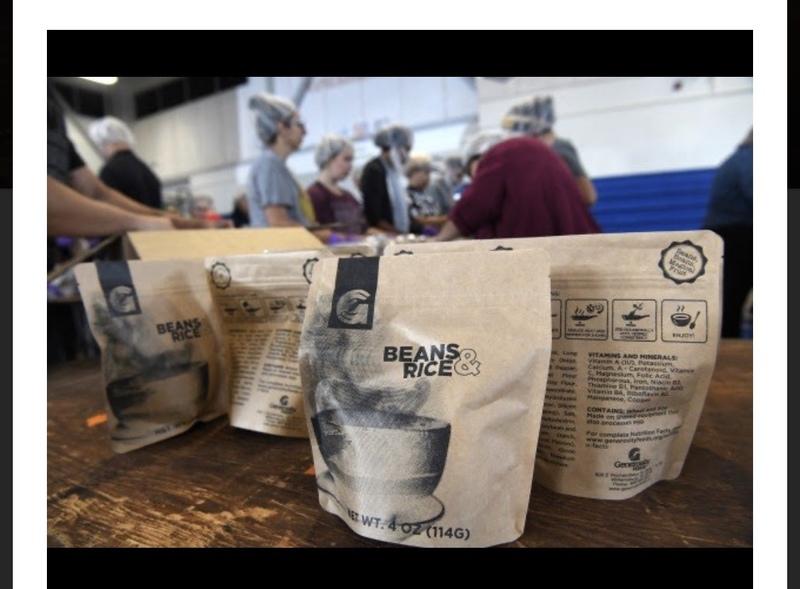 School District Community Outreach Liaisons have been working with Generosity Feeds over the past few months to plan the event and will determine which students receive the meals based on need.  
"Many of our children suffer in silence, especially with hunger.  Imagine trying to do homework on an empty stomach or going to bed hungry because there is nothing in the pantry.  This is reality for many of our children," said Rhonda Dunlow, Belmont Elementary Community Outreach Liaison.  
Roanoke Rapids Graded School District Superintendent Dain Butler said he is grateful for all of the volunteers and staff members who have worked over the past few months to coordinate the event. "This says a lot about our community and the support it gives to help our students.  I am hopeful by sending these meals home on the weekends and during school breaks, it will have a positive impact on our students' social-emotional wellness and academic success."