The Roanoke Rapids Graded School District Board of Trustees voted on March 8, 2022 to move to an optional face covering setting for all students, staff, and guests without any stipulations. This now includes optional masks on all RRGSD transportation and in the Head Start program.
Totals below updated: 5/17/22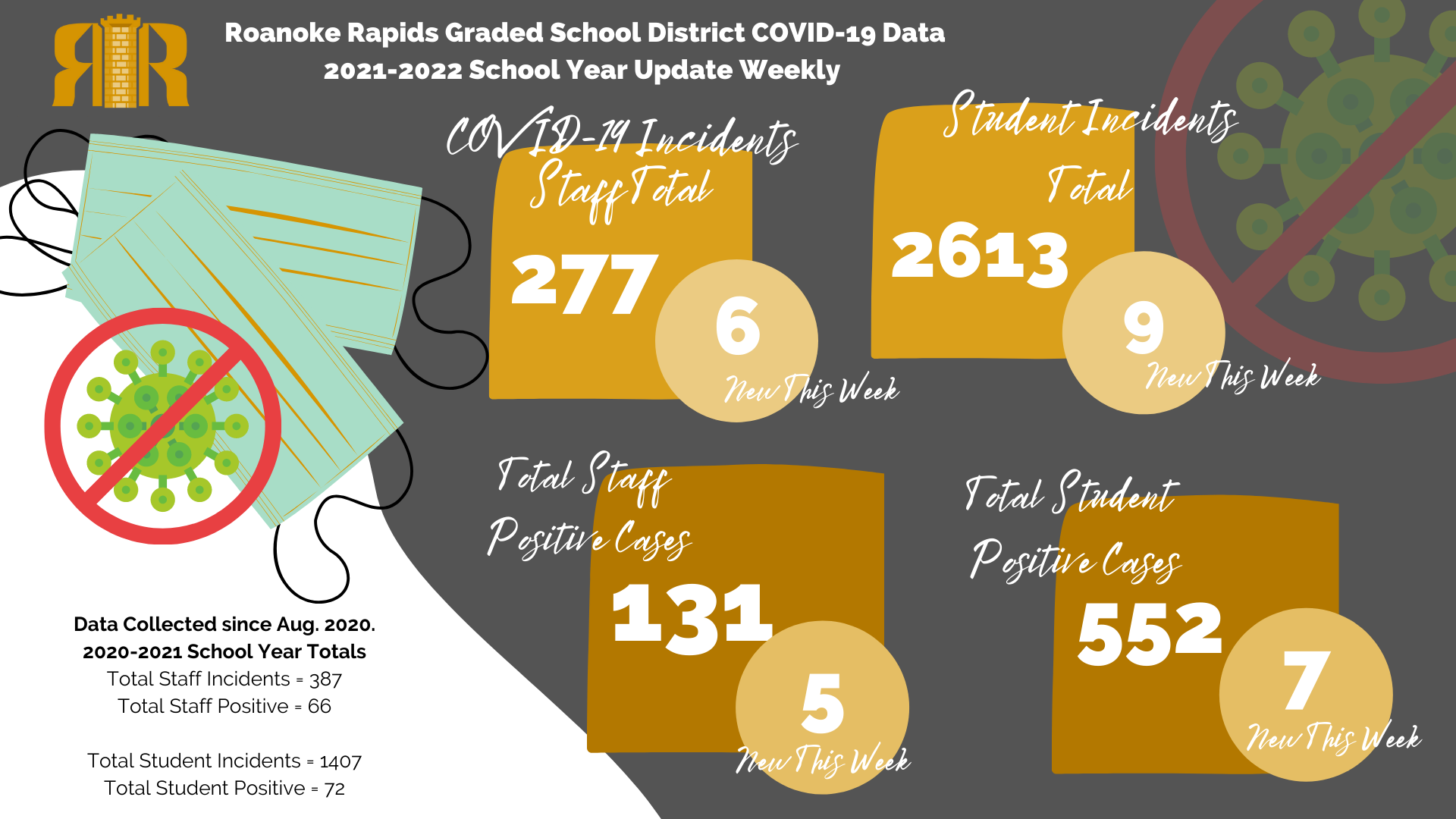 ROANOKE RAPIDS GRADED SCHOOL DISTRICT'S RESPONSE TO CORONAVIRUS (COVID-19)
RRGSD is committed to keeping the community well informed. We recognize that communication is vital during this uncertain time. We will take every step possible to provide accurate and up-to-date information, while also adhering to laws that prohibit the release of confidential medical information.
Keeping our schools and workplaces healthy and safe will be a team effort and we need your help. Each school is prepared to act immediately and consistently if and when a student or staff member tests positive for COVID-19 or exhibits symptoms consistent with COVID-19.
If you have a specific question about our district's efforts, please contact your school's nurse.
Cleaning & Sanitizing
RRGSD continues using special state and federal funding to purchase cleaning equipment and supplies to support sanitization and disinfectant efforts at schools. Every school has been provided disinfectant cleaning equipment that can be used daily to disinfect both the air and contact surfaces in all of the classrooms, common areas, restrooms, and other areas where people have been. Hand sanitizer stations have also been installed in key areas on each campus.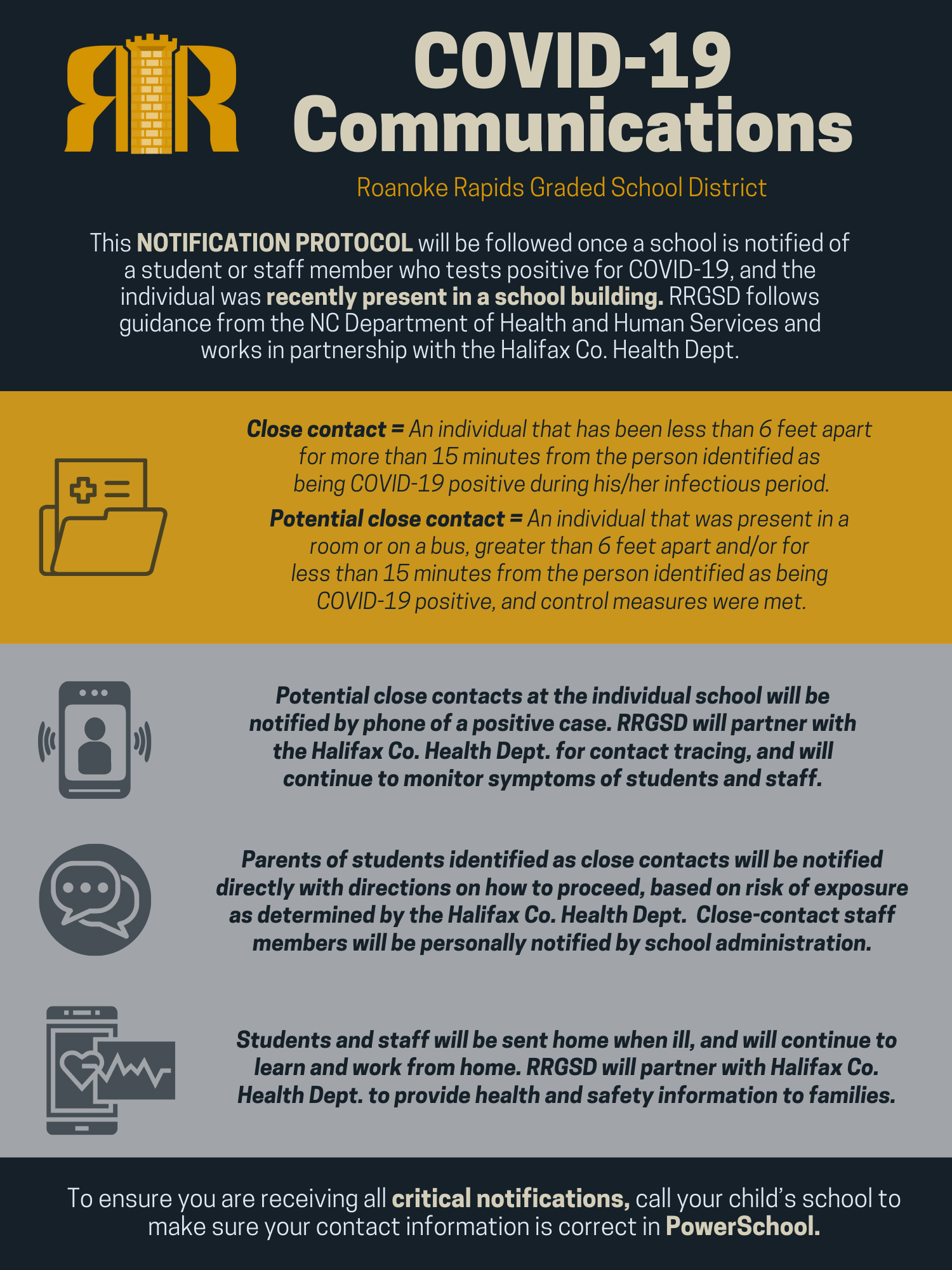 Please be assured that RRGSD Student Health Services staff continue to monitor illness in our schools as a standard practice. As always, we will share additional information with school communities as needed.
We urge all RRGSD families to continue the practice of maintaining healthy behaviors necessary during any cold and flu season.
These include but are not limited to:
Wash hands frequently with soap and water. Use an alcohol-based hand cleaner if soap and water are not available;

Cover nose and mouth with a sleeve or a tissue when coughing or sneezing;

Avoid touching eyes, nose, and mouth to prevent the spread of germs.;

Clean and disinfect frequently touched surfaces and objects, such as toys and doorknobs, especially if someone is sick;

Stay home when you are sick.
If you would like more information about COVID-19 specifically, please visit the CDC website at https://www.cdc.gov/coronavirus/2019-nCoV/.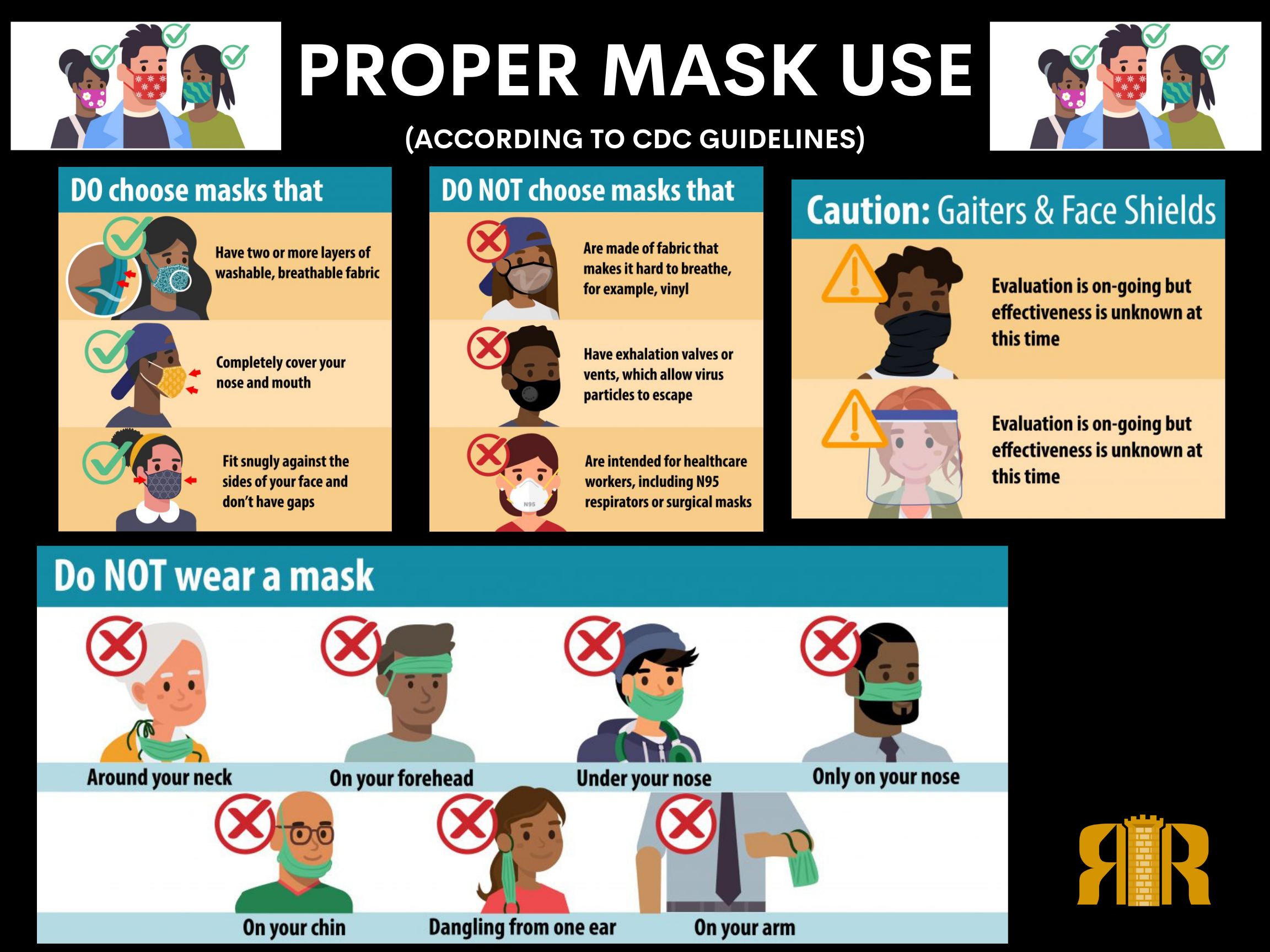 RRGSD is in constant communication with the Halifax County Health Department, Halifax Emergency Services and other local agencies. The Health Department is providing daily updates on its social media and website as well.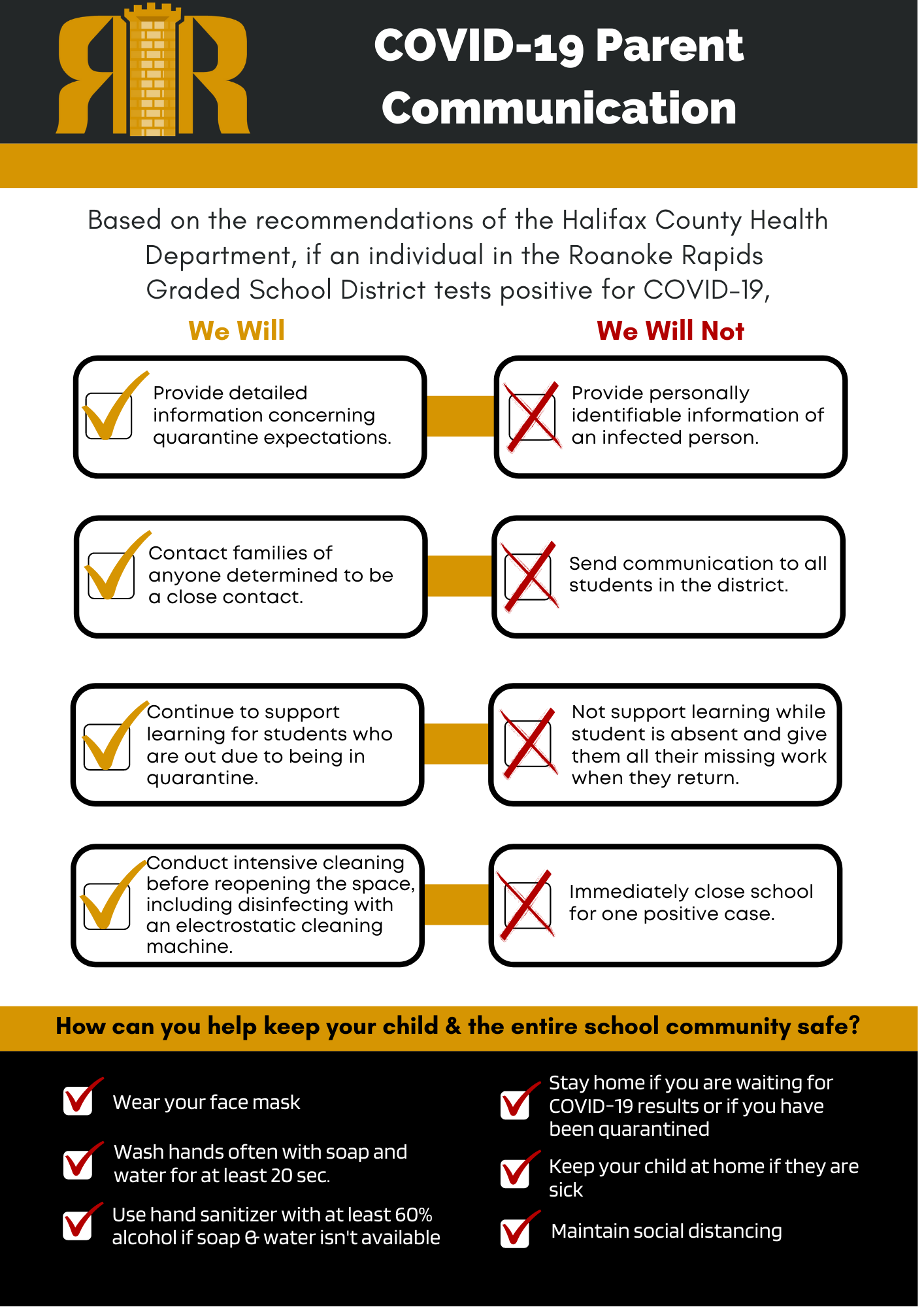 State Guidance for COVID-19
Public and charter schools in North Carolina must follow the state guidance for handling suspected, presumed, or confirmed cased of COVID-19.
This Screening Reference Guide outlines protocols that staff should follow when interacting with students or staff who:
1) Share they were exposed to someone with COVID-19 (defined as having close contact of less than 6 feet distance for more than 15 minutes) but have no symptoms,
2) Share they were diagnosed with COVID-19 less than 10 days ago but are not symptomatic, and
3) Present with at least one of the following COVID-19 symptoms (fever, chills, shortness of breath or difficulty breathing, new cough, new loss of taste or smell).
On page 10 of the Strong Schools Public Health Toolkit (updated December 4, 2020), you can find the following statements: NC Strong Schools Guidebook
Utilize the CDC's most up-to-date quarantine guidance.

Quarantine refers to an individual who has been a close contact (within 6 feet for at least 15 minutes cumulatively over a 24-hour period) of someone who is positive with COVID-19.

CDC continues to recommend quarantine for 14 days after last exposure. However, as of December 2, 2020, the CDC has offered options to reduce the duration of quarantine in either of the following two scenarios: – 10 days of quarantine have been completed and no symptoms have been reported during daily monitoring; – 7 days of quarantine have been completed, no symptoms have been reported during daily monitoring, and the individual has received results of a negative antigen or PCR/molecular test on a test taken no earlier than day 5 of quarantine.

If quarantine is discontinued before day 14, the individual must continue to monitor symptoms and strictly adhere to all nonpharmaceutical interventions (e.g. wear a mask, practice social distancing) through 14 days after the date of last exposure.

Follow the recommendations of your local public health department if someone at your schools must quarantine. Local public health authorities make the final decisions about how long quarantine should last in the communities they serve, based on local conditions and needs.
Please understand that Roanoke Rapids Graded School District follows the directives of the Halifax County Health Department.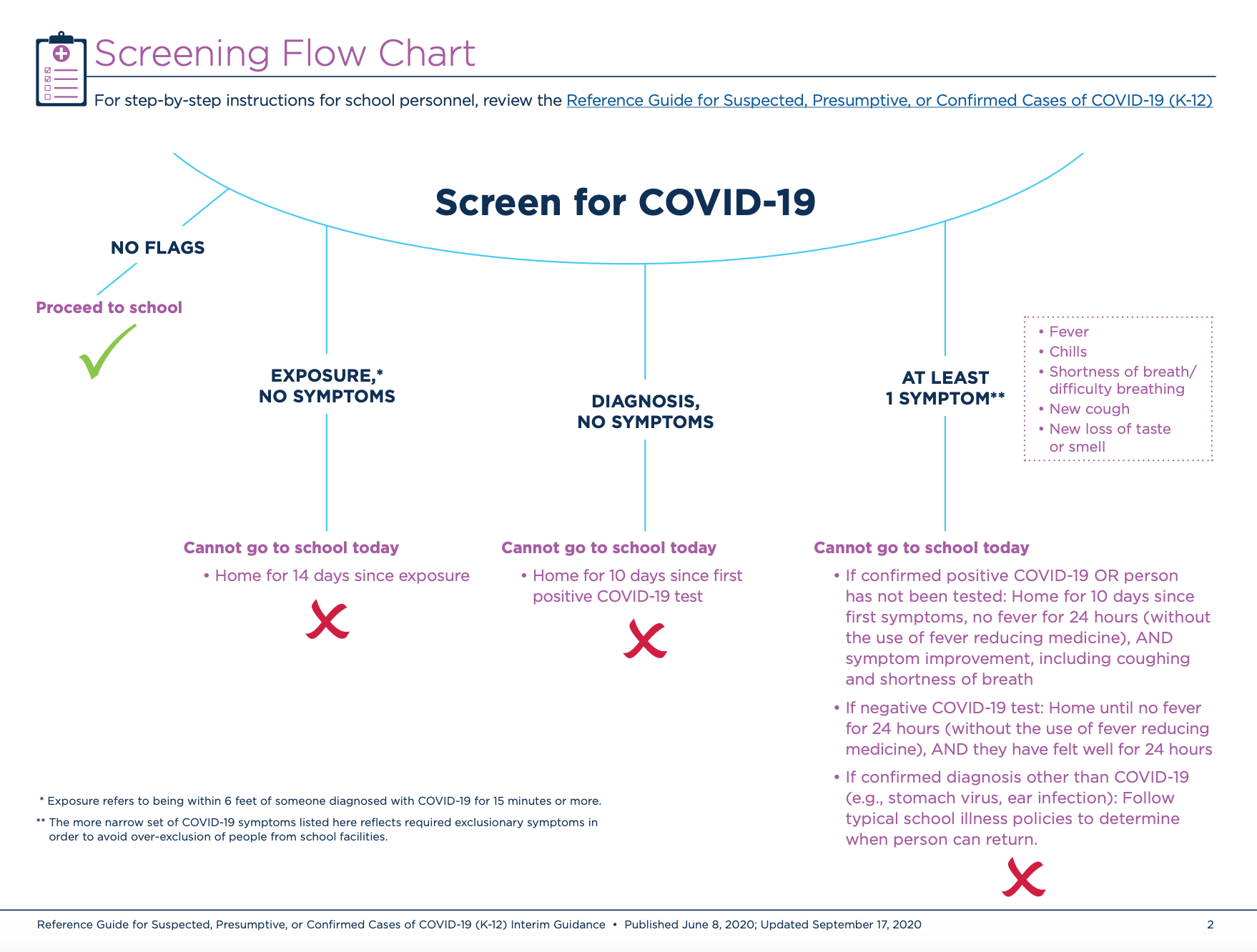 RRGSD has been and will continue following state guidance and working with the Halifax County Health Department in its response to COVID-19.
Because the state's guidance documents are filled with pages of information, resources and protocols for schools to follow, a more general explanation may be more helpful for families, staff and the community to understand.
It is important to recognize that each situation at a school will vary and must be handled on a case by case basis. For instance, variables can differ such as when the person with COVID-19 came on to a campus, where they were on the campus, how long they were on the campus, when they were tested, why they were tested, when they tested positive, when they got their results, if they are currently experiencing symptoms, if they were symptomatic at the time they were on campus, when they began experiencing symptoms, if they have been quarantined, if they were already quarantined at the time of the test, when the last time any areas they were in were disinfected by custodial or operations staff, if there were any "close contacts", if "close contacts" have been notified, if health officials have been notified yet, or if the school was notified by health officials.
As part of the district's response, contact tracing will occur. If there are "close contacts" at a school, they will be personally notified and instructed to quarantine for 14 days and self-monitor.
RRGSD will NOT be releasing details about a specific response at a school (areas being cleaned, if there were "close contacts" and if so how many, etc.) which could potentially lead to the identification of an individual that has COVID-19 who was recently on that campus.
RRGSD will work with the local health department and NCDHHS to publicly report if there is a cluster of cases or an outbreak of COVID-19 at a specific school.
NOTE: In a child care or school setting, NCDHHS defines a COVID-19 cluster as a minimum of five laboratory confirmed cases with illness onsets or initial positive results within a 14-day period and plausible epidemiologic linkage between cases.
How to talk to your children about COVID-19
The coronavirus pandemic started in March 2020. You may have questions about what exactly this virus is — and how to stay safe. Here are some answers:
This comic is based on interviews conducted by NPR's Cory Turner with Tara Powell at the University of Illinois School of Social Work, Joy Osofsky at the LSU Health Sciences Center in New Orleans, Krystal Lewis at the National Institute of Mental Health, Dr. Ashish Jha, dean of Brown's School of Public Health and Rosemarie Truglio, senior vice president of curriculum and content at Sesame Workshop.
Usage: Malaka Gharib/ NPR