Roanoke Rapids Graded School District Superintendent Dr. Dain Butler and the Board of Trustees announced several personnel changes following Tuesday night's meeting.
Assistant Principal at Manning Elementary, Tonya Jones was named the new Clara Hearne Pre-K Center Director. Jones who has been with the district since 2017 will begin in her new role August 1.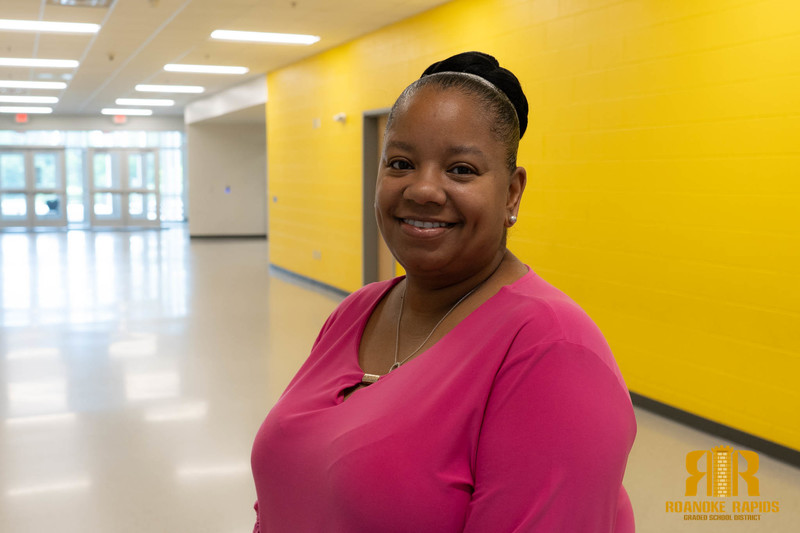 "It's been an honor to work alongside Mrs. Hinnant and the staff of Manning Elementary and I look forward to the possibilities that lie ahead as the Director of the Clara Hearne Pre-K Center. I am excited for the opportunity to lead and build lasting relationships with the staff, students, and families of Clara Hearne and Place to Play, as well as community partners who support early childhood programs," Jones said.
Chaloner Middle School Assistant Principal Jen Ott was named the new AP at Belmont. Ott has been with the district since 2002. She previously worked at Manning Elementary as a teacher and instructional coach.
"We're pleased with the teams we have in place at all of our campuses for this upcoming school year. We have strong leaders in all of our buildings who are committed to strengthening the relationships we have with our students, their families, our staff, and community," Butler said.
In other news, two district teachers were awarded grants to fund art programs within their respective schools. The money is given each year to a deserving art project from the Newsom Family Endowment for the Arts and administered by the Roanoke Rapids Schools Foundation. Chaloner Art Teacher Shelly Rideout was awarded $3472 to purchase 30 digital drawing tablets to incorporate digital arts into the middle school art curriculum.
In her grant proposal, Rideout stated, "This money will impact our Visual Arts program tremendously, giving students an opportunity to work with a new medium and develop new skills in the world of digital art."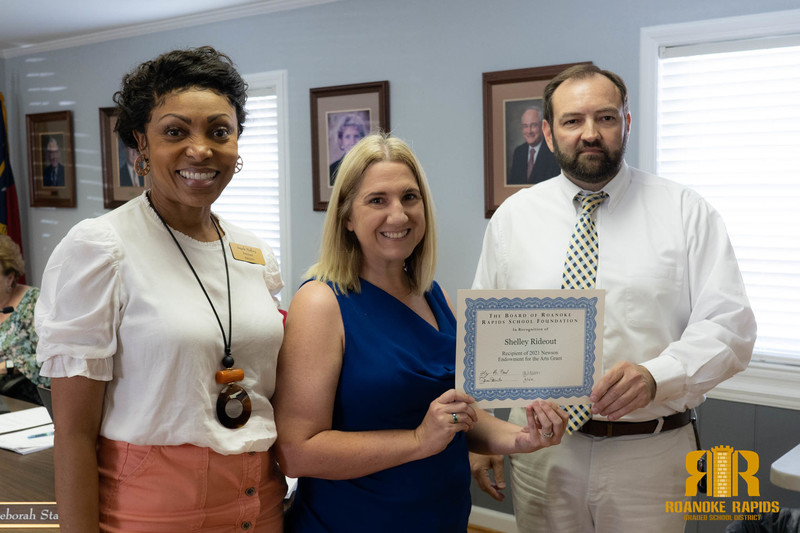 Manning Elementary Music Teacher Andrea Ford was also awarded a nearly $500 grant to purchase ukuleles to enhance the elementary music program. "Most people don't realize this, but the ukulele is a great starter instrument that helps with coordination, reading, and math graphing. Since it only has 4 strings instead of 6 it's also easier and quickly enjoyable for younger students," said Ford in her grant proposal.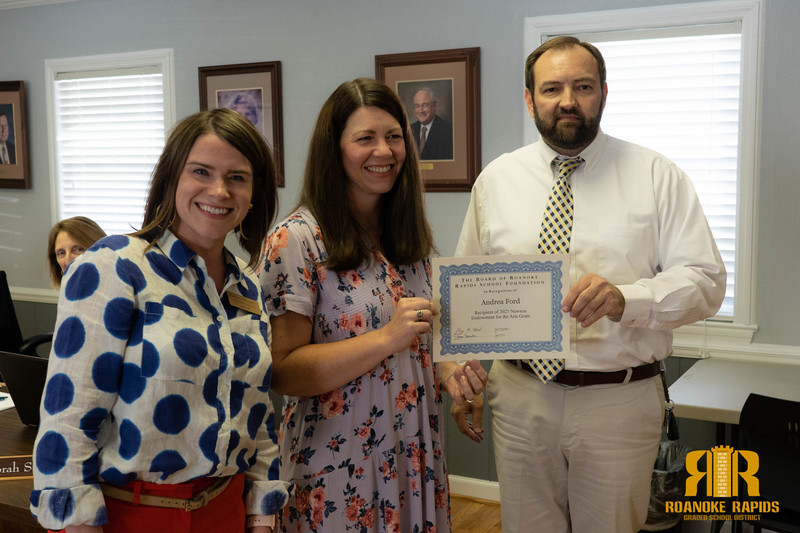 "We're thankful to Mac Newsom for establishing this endowment several years ago to benefit our students. We're sorry he could not be here with us tonight and wish him a speedy recovery. We look forward to hearing the music the students will make with these new instruments when they return in August and seeing some of this digital art," said Jay Carlisle, Board Chair.
In other action, the Trustees approved RRGSD's Comprehensive Continuous Improvement Plan (CCIP) for the use of federal funds Title I, Title II, Title III, and Title IV. The goals of the plan for next year include increasing student achievement in reading, writing, and math, building highly effective teams to enhance student learning and school climate, facilitating professional development, and recruiting and retaining highly qualified teachers.
In accordance with new state legislation, Trustees also approved a new mental health plan that includes a mental health training program for staff and the development of a suicide risk referral protocol. RRGSD's suicide referral protocol as well as a threat assessment tool has been in place for several years. The new training program will cover suicide prevention, substance abuse, sexual abuse prevention, sex trafficking prevention, and teenage dating violence.